Some Testimonials / Trip Reviews from
Our Tourists
You are probably aware of our trip recently arranged between yourselves and Symbiosis of London. We wish to tell you how much we enjoyed the trip and the itinerary arranged by yourselves. Also we wish to make you aware of how much we enjoyed the service proved by "Poe" and the driver. Although the driver spoke little English, he was always very cheerful and happy to point out all the land marks he could. He didn't seem to miss a thing – whether it was a village or house we should stop at or some land mark. He really knew the North of Thailand very well.

The service of Poe were wonderful. He was an excellent guide who gave of his best all the time. We could have asked no more of the service he offered. You might be aware that I am a Coeliac, and Poe had found out in advance of our trip all about the disease and about what I could and could not eat. It certainly made my holiday have someone who made sure that everything which I ate was safe for me to do so. We would very much like to make use of your service and hopefully Poe, when we make a return trip to Thailand and to Vietnam, Laos and Myanmar later this year.
Yours faithfully,
Lynne and Ray Hulme
England

Our stay in the Hmong village was an enormous adventure. We felt that we were accepted as equal and we were invited to take part in their way of living. Late in the evening around the camp fire we had an interesting exchange of views with four of the older men and two of their sons.....We took part in their service at church and my wife and my younger daughter presented a folk dance to them (I'm impressed - we normally don't perform).We will also try to write an article from our stay at the Hmong people for the local newspaper. If you have your Web page available within the next weeks we will include this in the article - if OK to you.
Thank you for arranging this special adventure for us.
Hilsen Oeyvin,
Norway

Your guide Jack provided me a wonderful trip into rural Thailand. Our rafting trip and elephant trek were preludes to the highlight ….a day and night in a Hmong village. The people there were so welcoming and so delightful, I enjoyed every moment. Jack in particular is an enthusiastic and knowledgeable guide, and his English is nearly perfect !
For the adventurous traveler, I highly recommend this tour.
David John Frank
Associate professor of Sociology
Harvard University

""""Mr. Jack: Wow. He knows so much. And yet he was able to say "I don't know" when he didn't know. We learned so much. Jack is passionate about his country and the history and future of the hill tribe communities. He was very true to his convictions: we stayed in and saw all that was original. I must say that I'm glad we didn't go on a different trek. There were several advertised in Chaing Mai but they would not have been anything like what we did. And the only reason we could enjoy such a remarkable journey so much was because of our guide. We were comfortable letting him represent us to these communities. We trusted him"
Hal and Margot Genger ,
USA

Duangkamol, the trip you organised was sensational and would recommend your services to absolutely anyone. Your staff are impeccable, their always friendly, respectful, professional and trustworthy. We never had to wait for anyone! The trip was very well organised.
Additionally, I really enjoyed Joe's knowledge of Thailand's history and way of life – this made the trip even more special as we now are more educated about the true Thai culture. We became enchanted by Thailand... J
Please don't change a thing...! However, importantly - please praise your staff for me.
Thank you!
Regards,
Simon Carroll aipp
30 Jan 2012
Living Image Photography
NORTHBRIDGE NSW
Australia 2063


Dear Khun Duangkamol,

.....I just returned to California and found several things that needed immediate attention.
Again, I can report that the Thai part of the program worked out superbly.  Everyone loved Poe--as always happens!--and Ms. Yai was very well liked and quite capable.  . . . So, I had a group of happy participants!  (In the end-of-program evaluations, the Ta Kha village experience rated very highly, as it always does.)
Thanks for making this all possible!
Best wishes,

Dwight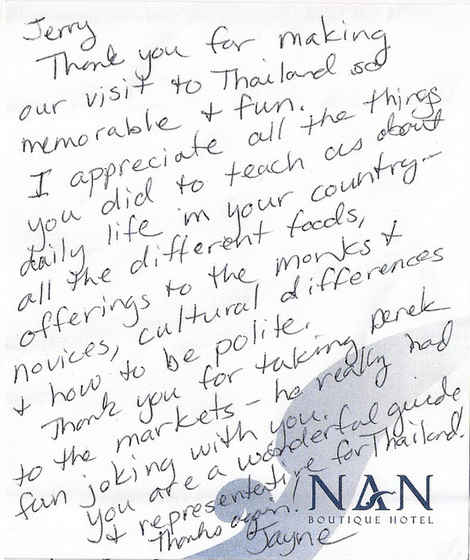 Hello Duangkamol:
Thank you for your email. We arrived back a little over a week ago and are now back to our regular routine. It is also very warm for this time of year in Vancouver, but still mild compared with Bangkok. We had a great trip to Thailand and Vietnam. We enjoyed meeting the people, learning about the history and culture and seeing some of the natural areas and parks. Thank you for organizing such a great trip for us. We want in particular to thank Poe for being such a fantastic guide. He was outstanding. I am sure the best guide we have ever had. He was knowledgeable, easy going, friendly and helped us and stayed with us from morning until well into the evenings on many nights. You are lucky to have him as part of your team. I have attached a couple of photos of Poe with our son Dylan and daughter Claire. Can you pass these onto Poe for us?
We really enjoyed the sights we saw on the trip. I wanted to give you a bit of feedback on the trip. The hotel in Hua Hin, and Ayuthaya were great. Nice setting in Hua Hin and classy place in Ayuthaya. The river raft was also a lot of fun. We didn't like the piano quite as much, but it was still fine. The Dusky Langurs in Kaeng Krachan, the hike to the temple and cave in Khao Sam Roi Yot, seeing elephants in both Kui Buri and Khao Yai, and the ancient Wats of Ayuthaya were highlights. The only down side was there was a lot of driving at times, but we did see many different sites, and I picked up a bit of a stomach bug that put a damper on things for the last couple of days.
Thanks again. We really loved Thailand and meeting Poe and have great memories to keep.
Thanks
Rob and Barb
Canada


 Hello Duangkamol Thank you so much in helping me organize a trip of a life time.  We did all the things that we wanted to see and do in Thailand and more.  You were very helpful and instrumental in co-ordinating everything to make our trip enjoyable.  I wanted to let you know the amazing vacation my sisters and I had in Thailand.  We loved Chiang Mai.  The people, the culture, the food and this was all made possible by Mr. Chan educating us on the Thai culture, language, customs and etiquette, politics, religion and the life of the hill tribes we visited.  It was quite the experience to see the joy in the children's faces when we gave them little treats that we offered them.  This was all provided by Mr. Chan and he gave us each the opportunity of handing them out to the kids.  We actually felt part of the community and thoroughly enjoyed the time we spent with the tribes.  We enjoyed the comaraderie with our guide, Mr. Chan and our driver, Manu.  We visited the market and enjoyed all the fruits that Chiang Mai had to offer.   Mr. Chan was excellent and he picked up on all the things we liked and made sure that we experienced everything we wanted.  He even was there when my sister needed that helping hand walking down the trails and captured every kodak moment possible throughout the trip. I also appreciated the fact that the company that you arranged the kayaking trip with in Phuket prided themselves in providing the best possible experience by not over booking their tours.  As some of the other groups we saw were quite large.  Ours seemed more personal and we actually kayaked ourselves as opposed to being kayaked.  You remember our guide in Phuket was in an accident and wasn't able to give us the tour included in our itinerary and the driver's English wasn't very good.  Sea Canoe was able to provide us with a driver the following day to see a bit of the island, which I thought was a very nice gesture since we were not able to see the island when we arrived.  I will definitely recommend Wild Thailand to anyone wanting to visit Thailand.  I have already told many tourist during our travels what a wonderful experience we have had with your tour company. 

Thank you. 
Sincerely
Cathy Ayow
Canada


Kudos to you and your team.
I just wanted to drop you a note to thank you for a wonderfully planned itinerary. My family and I enjoyed both the wonderful activities and beautiful sights. Each day brought nice new surprises.
I also wanted to say how much we enjoyed the company of Joe and Anand who were both very helpful. I must commend Joe on both his professionalism and his knowledge. He was very knowledgeable and always keen to share insights on what we were seeing or doing. He was also very tactful whilst guiding us on how we should behave so that we didn't make faux pas.
Thank you for the wonderful experiences during this tour.
Best regards
Andrew (Thio Thiam Beng)
Singapore
Dear Duangkamol:

It is difficult to express in words just how grateful Kamy and I are for the trip of a lifetime that you planned for us. Even though we were excited to travel to Asia for the first time, we still could not have imagined how memorable and special our visit to Thailand would be.

I realize that working with me was challenging. Unlike some of your other customers, I usually plan all my own travel, myself, because I like to go to places that aren't typically featured in arranged tours. I selected WildThailand because of its custom trip option and its focus on remote destinations. When I wrote you, I was impressed by your prompt response and your willingness to incorporate all our concerns and special interests into the sample itinerary you sent me. But even more impressive was your constant, attentive correspondence with me over a period of at least 3 months, as I asked you countless questions and made additional requests. You never grew impatient with me or stopped writing me, which is why I felt confident that our trip would be great, even though I had not previously heard of WildThailand.

The trip was better than great. It was not until I reached Thailand that I realized just how much effort you had to put in to coordinating so many guides, drivers, hotels, tours, meals, and more. You are perhaps the ONLY agent who could have exceeded my expectations. As we waited--half way around and world from home and a bit nervous--to see if our first transfer and guide would arrive, we were so relieved to find him (Ngu) with our name on a sign, waiting faithfully at the airport exit. Every arrangement from that point forward was just as timely and reliable, to our great relief.

Bangkok was an amazing introduction to Thailand, especially considering how much we saw in our one full day there. I remember telling our guide Ngu that if my whole trip ended the next day, I would still think visiting Thailand had been worthwhile. Ngu provided us with a remarkably thorough explanation of the historical and religious backgrounds of Wat Arun, the Royal Palace, and the Royal
Barges. Although our day was full of activity, we never felt overwhelmed or rushed. In fact, we still had energy to attend a Thai dance show that evening, which Ngu kindly arranged for us and escorted us to, on his own time.

Northern Thailand, which we toured for one week of our sixteen-day visit, was our favorite part of the trip, thanks to our guide Mu and her friend Nini. Our road trip among the villages and cities around Chiang Mai and Mae Hong Son was an experience Kamy and I will always cherish. Two better teachers we could not have possibly asked for. Mu educated us in many matters of Thai language and culture, including basic grammar, customs and manners, food, music, nightlife, politics, religion, farming, flora and fauna, and village life. Nini, in addition, patiently taught me Thai vocabulary and songs, always smiling and laughing with me. Perhaps the best education we received was "learning by doing," as Mu would say. Mu's deep-rooted connection to the hill tribes of the north and the Mae Chaem villagers allowed us to connect with families and experience first-hand some of their ways of life. Their obvious respect for Mu and her support of their villages made us feel welcome wherever we went.

Mu and Nini were as generous with their time as they were with their information. They spent New Year's Eve with us in Chiang Mai, where we sent a giant lantern into the sky and celebrated on the riverbank. Sanuk Mahk! On our last day in the north, they kindly agreed when I asked them if they would stay in Mae Hong Son with us. I realized I didn't want us to spend that day on our own, as we had planned. At the airport we cried when our dear guides and now friends left.

Our final destination, Southern Thailand, was where we witnessed the beauty of the jungles and islands. The jungle accommodations you arranged at the Tree Top River Hut resort and the bamboo raft house were set in absolutely breathtaking locations. It was so inspiring to walk out of the room and see exotic birds and emerald green waters, and to hear the roars of cicadas and the howls of Gibbons. The owners of both resorts fed us Thai meals fit for a king and were friendly and helpful. Mr. Daeng ensured that all our activities—elephant riding, jungle hiking, kayaking, and boating to the raft house—went just as planned.

When we arrived in Phuket, the lessons of our previous destinations came in handy. We easily navigated our way around Karon Beach and were appreciated by the Andaman Sea View staff for using the little Thai we knew. Our day tours to Ko Phi Phi and Ko Similan were quite full, as expected during high season, but that didn't stop us from relaxing on white sand beaches and snorkeling past beautiful coral reefs and fish.

Duangkamol, how can we begin to thank you and WildThailand? Our experiences never would have been possible without your professionalism and expertise. Although we have traveled to many faraway lands including Peru, Tahiti, Mexico, Europe, and even Antarctica, this trip to Thailand has been outstanding. I hope you will share this review with all the people who helped make it happen.

With sincerest gratitude,
Kim Akhavan
USA
Hello,
I want to thank you once again for this fabulous trip to Thailand.
It was just really excellent.
The program was really a good mix between the luxury and great comfort of the hotels where we stayed with the originality of the visits we did.
I have enjoyed very much the itinerary. I have discovered news places and new shades.
I have meet new people from here and from there. We had most contagious laughing and great conversation about all and nothing
Your Thailand is fascinating.
Please preserve your nature and amazing people.
A special thanks to Khun Prakit.
Actually, to be very honest, you have change my mind about Thai people.
I thought they were just smiling … now I am convinced they are very nice, good people, pleasant, grateful and funny with a great sense of humor.
Another very special thanks to Khun Poe.
He was always friendly, present and thoughtful. He loves his country and can transmit his love and knowledge.
Nowadays, with all kind of social media, etc. we don't have any excuse anymore for keeping not in touch with all our new friends.
So, I am sure, our path will cross again.
Thanks again and see you soon.
Nadia DEWULF
France